Hello guys, .NET is a programming language but basically a framework that aids other languages. It was created by Microsoft. One thing you should be sure of is that .NET is easy to learn. Once you understand that, your main focus should now be where you will get good websites with fantastic courses to enrich you with knowledge in this area. In this article am going to mention for you the best websites that can take you through the journey of learning .NET with ease. I have sampled those that are very suitable and you can enjoy learning. There are many platforms online that cannot suit your needs but when it comes to the ones that have been mentioned down below, you don't need to worry anymore.
What are the best websites to learn .NET in 2023?
Here is the list of the best websites and platforms to learn .NET in 2023
1. Udemy
Here on Udemy, you will be sure of getting courses to learn anything in programming whenever you need .Net BasicCourse-Introduction to .net with programming is a free course on Udemy that can help you acquire some skills in working with .Net in the best way possible. Sravanthi Venishetty is the author of this course.
Design Patterns in C#and .NET is a good course where you can easily learn all the basics and skills of
.NET. Created by Dmitri Nesteruk, the course goes for $84.99. This course is quite comprehensive and contains all the skills you should know. With 172 lectures spread through 28 sections, the course will take you about 20 hours to complete.

All the design patterns in .NET are covered here. In terms of resources, it has a whopping 123 resources at your disposal for you to download. Once you are done with the course, a certificate of completion will surely come your way.
2. Coursera
Coursera is believed to be among the leading websites where one can get both free and paid courses and learn a subject of their choice. You simply have to think of what you want to learn and let Coursera serve you.
On that note, I have mentioned just two courses here that will serve your learning interest to the fullest, so make use of them. Developing ASP.NET MVC Applications is a course on Coursera where you can enroll for free and learn .NET without difficulties. Another one is Introducing .NET Core. It is also a free course.
When it comes to joining this course, you have two options, you can either join this course alone which costs around $39 per month for specialization, you can also join Coursera Plus for $59 per month, a subscription plan from Coursera which gives you unlimited access to their most popular courses, specialization, professional certificate, and guided projects.
3. Pluralsight
Pluralsight too has good and compelling courses where you can learn .NET at any given time. You have to pay a monthly subscription fee of $29 before you can start accessing courses of your choice.
.NET Class Libraries: The Big Picture is a course on Pluralsight that was created by Matthew Soucoup. It is an intermediate-level course. Therefore, it will require you to have some previous knowledge or experience in .NET before diving into this course.
Building Configurable Applications Using .NET Generic Host is the second course that can transform you as far as knowing and understanding .NET is concerned. Matt Tester is the instructor of this course. It is again an intermediate level course which means having some previous experience in .NET is paramount for you to progress easily in this course.
This course effectively teaches quite a lot of skills, and this means that after completing it, you will be able to perform the various tasks you learned. Just to mention a few, you will learn how to .NET Configuration is structured, you will also learn how to read from a configuration section, you will also learn how to add a hosted service and how to use library defaults.
The above two courses will both guarantee you a 10-day free trial when you enroll.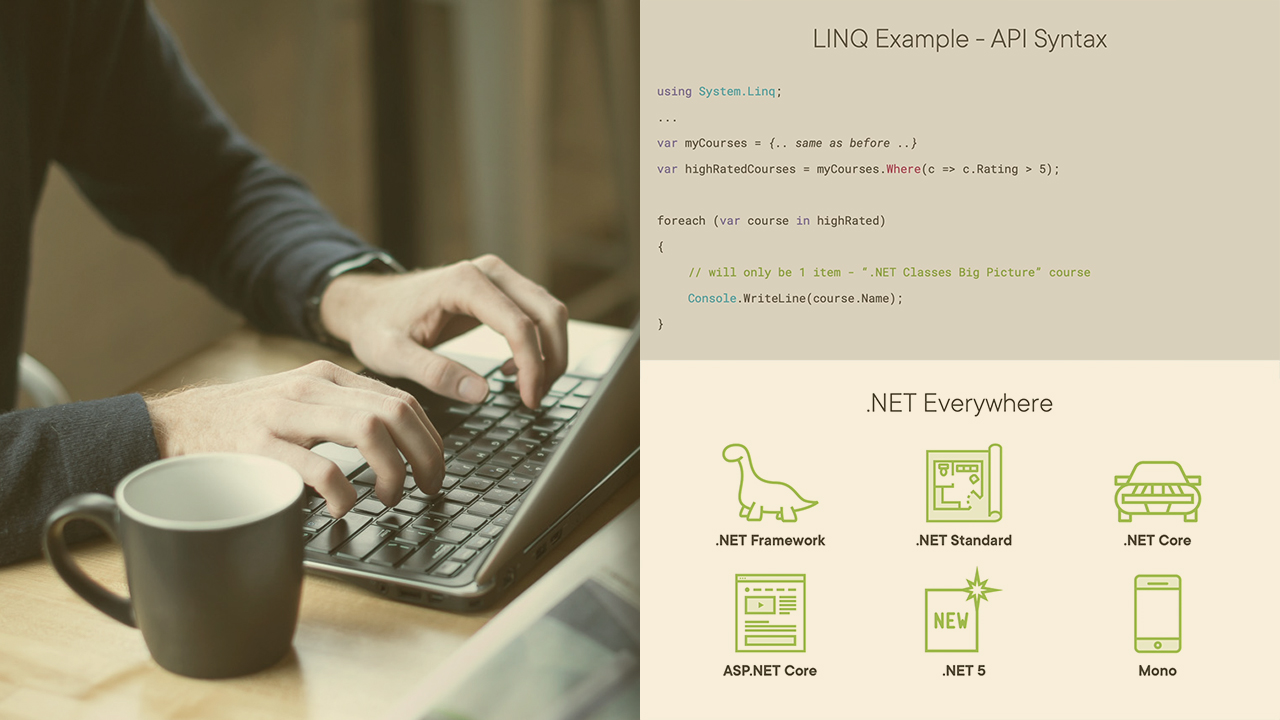 4. Educative.io
Educative.io has also not been left behind in this journey of ensuring that learners gain knowledge in whatever they wish to learn. There are a good number of courses here covering other subjects as well as .NET but for today I will focus on .NET alone so that I give you proper direction as to where you can visit and learn smoothly.
When you get to Educative.io always go straight to Developing Applications with ASP.NET Core. This course is a paid course meaning you will have to pay before you can enroll and begin learning. In
about 20 hours or so, you will be able to cover all the 40 lessons available in this course and as well as do quizzes.

Having previous experience in .NET will be required since this is an intermediate-level course. When you enroll, you will also be entitled to a free trial of up to seven days which will see you being granted access to over 310 courses. Another thing that you will not miss getting is a certificate of completion.
5. Freecodecamp
When it comes to Freecodecamp, you are sorted with something that will elevate your skills from one level to the other. Learn ASP.NET Core MVC (.NET6) will be your solution when you visit Freecodecamp to look for a course that will help you to learn .NET with no pressure. This is a free course that you can rely on and so don't hesitate to join the rest of the learners.
You may as well visit the .NET website online and see what you can get to learn concerning .NET at your most convenient time. You will learn much more genuine skills since the developers themselves are responsible for making the information available on the website in order for you to access it with ease.
As I finish, what I can say is that don't ever let a great opportunity slip off your fingers whenever you get it. I have mentioned good websites with fantastic courses for you to learn and master various skills and you should take advantage of that and start learning.
These courses will change and take you to the next level since the world we are living in is a world of technology and therefore having comprehensive knowledge in .NET will not hurt.