Hello guys, today, I am going to share my review of
Grammarly
- one of the powerful writing tools for bloggers, programmers, writers, students, and anyone who wants to write correct English without grammatical and spelling mistakes. Nowadays, it seems everybody use it and why not Grammarly free version is good enough for most purpose and for hard core writers and bloggers, Grammarly premium is also affordable with just $140 year, and sometime they even give 50% discount. In this article, I will tell you my opinion about Grammarly based upon my own experience and whether Grammarly really worth it or not? Difference between Grammarly free and Grammarly Premium and whether you really need Premium or not in 2024.
I have been writing articles and blogging since 2010 and have written more than 3000 articles on Java, Programming, and Technology, but didn't talk much about blogging itself. After many requests from my readers for blogging tips, my experience, and what should a programmer do for his improvement and financial stability, I have decided to write occasional posts about my blogging experience, and this one is the first on that series.
In this article, I am going to share one of the essential tools for any blogger or writer -
Grammarly,
a software that helps you with your writing. It not only corrects spelling and grammar mistakes in your article but also provides useful insights about readability, engagement, clarity, and delivery of your article.
Not only that, but it also helps to make your tutorial or blog post better by altering the choice of words and formation of sentences.
This is an incredible help to anyone who writes and absolutely mandatory for bloggers and writers and that's why I love Grammarly.
I decided to write articles primarily to improve my knowledge of Java, but blogging, mainly writing articles wasn't easy. Writing content that is not only useful but also engaging is always a challenge, and I was also worried about what people will say about my writing.
One of the main difficulty which I faced during my initial years was my English and writing skill was not great. Though I mostly get away with that because my content was technical and to-the-point, it was sort of embarrassing to keep making mistakes between then and then, or sometimes and sometimes.
I did learn, but the absence of a proofreader and not having the right tool means there was always a couple of spelling and grammar mistake left in the article.
Thanks to
Grammarly
, Now, I don't need to worry about Grammar and Spelling mistakes in my article. Using Grammarly regularly also improved my writing and the quality of my article is much better than it was before.
I have far fewer grammatical errors than before, and the reading ratio of the article has improved substantially. That's why I suggest every blogger and writer use Grammarly, especially if English is not your first language.
Review - My Experience with Grammarly
Even though Grammarly has been around for many years, I only started using it a couple of years ago. I know I was late, but it's better to be late than never.
Since I mostly write on a Notepad, I didn't have access to many tools to check for spelling and grammar on my articles.
When I copy-paste my article on blogger for formatting, I mostly relied on my own and eye and whatever help my browser provides, which was not enough.
I did try writing on Microsoft word at the start of my blogging career, but there were too many issues like it was very slow. Instead, I prefer the simplicity and speed of Notepad, which allows me to write fast and fast.
Anyway, when I found that
Grammarly has a chrome extension
, I immediately started using their free service, and booms my articles were much better to read with less to no Grammer mistake. Grammarly provides instant feedback though I never blindly accepted anything and always go one by one.
The
free version of Grammarly
was tremendous and to be honest, no free tool I have used so far has been that useful, I mean they are really generous in providing so much support for free, but once I started using their premium service, I realized how much I was missing as a blogger and writer.
1. What is Grammarly Premium? is Grammarly premium worth it in 2024?
Grammarly Premium is their paid version which offers over 400 types of checks and features, checks for grammatical errors, provides vocabulary enhancement suggestions, detects plagiarism, and provides citation suggestions. It's like an online proofreader with a fraction of the cost.

As a blogger who has written over 3000+ posts to date, I can say that Grammarly is the best Spelling Software and Writing assistant for bloggers. It not only catches your silly spelling and grammar mistakes but also offers intelligent suggestions to improve your content.
One of such suggestion is breaking a long paragraph into a smaller and more readable paragraph, I really love it and after using this suggestion dwell time of users has increased and I have received positive feedback from my users.
Another great thing about Grammarly premium is that they are using Machine Learning and Artificial intelligence to give more useful insights and suggestions about the tone of voice and how does your content is coming off, like whether it's for knowledgeable people, does it uses words correctly? and the impact score of the overall story.
All these features really make
Grammarly premium
totally worth it in 2024. I just paid $49 for my year's subscription, a 50% Discount on Grammarly and I use it every day.
Here is another helpful chart from Grammarly itself, which shows the difference between Grammarly free and premium version:
2. What is the Cost of Grammarly Premium in 2024?
Grammarly Premium monthly subscription costs around $29.95 per month while their quarterly subscription costs 19.98 per month, but billed as one payment of $59.95. The one I use is
Grammarly Premium annual subscription
which just costs $11.66 per month and is billed as one payment of $139.95, so you don't need to worry about paying every month. To be honest, it's completely worthy of their price and every blogger and writer should use Grammarly for their work.
3. Does Grammarly helps with SEO and Better Search Ranking?
Well, there is no official answer to this question, but, from my own experience, I can say that using
Grammarly does improve search ranking
for your articles. I have used Grammarly substantially to write new articles and update my existing articles, and they did better after the update.
If you think you will also understand because Grammarly not only helps you to fix all the grammar and spelling mistakes but also allows you to add synonyms in place of repeated keywords, which means more related keywords are inserted into your article.
It also helps you to break down your sentences into more simple smaller lines, and this improves the readability of your article or blog post. This improved readability means a reader spends more time on your site, and there is a good chance that it will not only read the article entirely but also read other articles from your website.
This improved engagement sends positive signals to Google that your Website or blog is valuable, and readers like it, which means improved search ranking for your content.
4. Is Paying for Grammarly Premium really worth it in 2024?
Absolutely. Paying for Grammarly is completely worth your money. It not only save you from embarrassing mistakes which I have made and received a lot of flake online for that but also improves your writing and vocabulary skills.
Consider it your online English tutor as well. It has seriously taught me a lot of things like how never to miss an article and which word can make the most impact. I strongly recommend Grammarly to any blogger and writer and anyone who is writing publicly.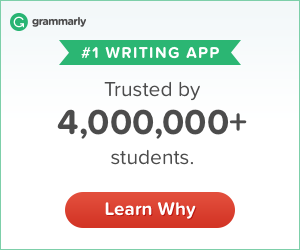 5. How to get the most out of Grammarly? Both Grammarly Free version and Premium
Grammarly provides a lot of options, and it is literally everywhere, but you should first install the Grammarly browser extension (it's free!). While it's not compatible with everything (like Google Suite), it does work with apps that matter for bloggers like WordPress, Blogger, and other content management systems.
Once you
install the Grammarly browser extension
, you can type right into your WordPress and Blogger editor, and it will underline incorrect words or phrases. It will also highlight errors and suggestions while you type an email, create Facebook and Twitter posts, etc.
You can also type directly into the Grammarly app. This makes it easy to click on the correction without interrupting your flow, and if you work with Microsoft Word and PowerPoint, then you can also use Grammarly for Microsoft Office.
That's all about my
Grammarly review
and
why every blogger should use Grammarly
. It's an excellent tool and a must for any serious blogger or writer. It's not just the world's best automated Grammar Checker but also your virtual writing assistant, online proofreader, and your English tutor.
I couldn't recommend Grammarly enough; every blogger should use it to write better content. If you just want to do one thing at this moment, then
sign up for Grammarly
and improve your writing now. It's FREE.
Other
Programming and Blogging Articles
you may like
Thanks for reading this article so far. If you enjoy this article and are interested in learning more about my blogging experience, which tools I use, etc., then subscribe to the blog, and you will be notified of each post. You can also join me on Twitter, Facebook, and Medium,
P. S. -
If you are using Grammarly regularly, I suggest upgrading to their
premium version
, it will make your articles more readable and improve their search engine ranking as readers will spend more time reading your article.